If you are from North America or Australia, you may have heard the name Senpure or Xiangpiaopiao.
It is a brand of instant milk tea from China and always occupies a shelf in supermarkets around the world.
It has different tastes and a variety of products. In recent years, it has gradually become popular with overseas consumers.
For Chinese consumers, the brand is friendly and unfamiliar.
It is cordial because it is almost the overlord of China's instant milk tea industry, and almost all Chinese have heard its slogan "Senpure milk tea sells 200 million cups of milk tea a year, which together can circle the earth."
But it is unfamiliar because due to changes in consumption habits, Chinese consumers no longer love instant milk tea and old-fashioned milk tea in the past two years. Senpure has been hit and is undergoing transformation.
What is XiangPiaoPiao?
Xiang Piao Piao is a brand of instant milk tea from China. It has a tortuous business story in China. But before we tell its business story, let's take a look at its products.
As you may have heard, milk tea has made a comeback in Asia these years. But what is popular this time is the new milk tea, which is a kind of freshly made milk tea. New brands of milk tea, including HeyTea, Naixue's Tea and The Alley, use fresh milk, fresh fruits and various fresh ingredients to make milk tea with unique flavors.
However, milk tea, which is now popular in Europe, North America and Australia, is still a classic milk tea. Such as Gong Cha, Ding Tea, Royal Tea.
Based on the tea-drinking habits left by Britain in the Asian colonies in the last century, these classic milk teas have derived different tastes such as Bubble Tea, Hong Kong-style milk Tea or Thai Tea. In fact, these classic milk teas were popular in Asia ten years ago.
And XiangPiaoPiao is the instant version of these kinds of classic milk tea. Due to the maturity of China's food industry, the XiangPiaoPiao fast-melting milk tea tastes almost the same as the one you drink in the milk tea shop and even has more flavors.
XiangPiaoPiao's classic milk tea tastes like the classic HK Style milk tea of the last century, with a strong sweet taste and a hint of black tea and milk aroma. But what is more popular now is its flavor of taro, red bean, matcha and cheese. Overall, it tastes a bit like a tea latte.
The company has multiple brands (series) overseas. You may see its name as Xiang Piao Piao(XPP), Lan Fong Yuen, Senpure or Meco.
Among them, XiangPiaoPiao (XPP) is instant milk tea, which is divided into two prices, of which the classic model is cheaper and the high-end model contains more flavor. Lan Fong Yuen is liquid milk tea, Senpure is another trademark of XPP, and Meco is the fruit tea brand launched by the company.
Although the company's main business is instant milk tea, it has also begun to sell bottled liquid milk tea and fruit tea in recent years.
In European and American markets, the main difference between XPP and offline milk tea shops is that XPP is cheap.
Basically, you can buy a cup of delicious XPP milk tea for $1, and it tastes almost the same as what you buy in a milk tea shop or food takeout for a long time.
The birth of XiangPiaoPiao: Jiang Jianqi's second entrepreneurship
Xiang Piao Piao was born in 2004, but this is not the first time his founder has started a business.
In 1964, Jiang Jianqi, the founder of Xiang Piao Piao, was born in Huzhou City, Zhejiang Province. Huzhou is a rich city in modern China. Since the Wanli period of the Ming Dynasty, many people have been engaged in business here.[1]
Jiang Jianqi has seen those business story since he was a child and wants to become a businessman very much.
After graduating from college, Jiang was assigned to work in the railway bureau, but he did not give up his dream of being a businessman and always went back to his hometown to help his brother run a small food factory.
In 1986, as soon as China's reform and opening up, Jiang set up his own food factory. At that time, The Legend of the Condor Heroes, a TV series adapted from Jin Yong's novels, was a hit on Chinese mainland. Jiang named his food company "Old Urchin"( One of the characters in the drama) and began selling popsicles. This factory is the predecessor of Xiang Piao Piao.
By the beginning of the 21 century, the market competition for old style popsicles was becoming increasingly fierce. Popsicles are an obvious product in the off-peak season, and the company is in urgent need of a product that can generate revenue in winter.
In 2004, Jiang Jianqi saw a milk tea shop in the street doing brisk business, and many people queued up to buy milk tea, causing the shop assistants to be in a hurry. He realized that this was a business opportunity.
At that time, the consumption level of ordinary Chinese citizens had just improved, and the beverage and snack market ushered in an explosion. At that time, Hong Kong-style milk tea shops were very popular in the Chinese mainland.
Unlike the new style milk tea, which only became popular in 2018, classic milk tea does not contain a lot of fresh fruit and does not need to be brewed with fresh milk. So it can be easily converted into instant packaged drinks. Its raw materials are basically made up of tea powder, milk powder, sugar and some edible flavors.
But for bubble milk tea, there is an ingredient that is difficult to put into packaged food. That is the boba made of cassava powder.
Jiang Jianqi gave full play to his creativity and used coconut gel instead of cassava ball. Because coconut gel and cassava ball have a similar or even better taste, and coconut gel is more stable as an ingredient. At the same time, it is healthier than cassava balls because it contains fewer calories.[2]
The company has conducted trial sales in a few supermarkets near middle schools and universities, and achieved very good results.
In August 2005, Xiangpiao Food Company was officially established.
In fact, Jiang Jianqi's previous food factory still earns millions of yuan a year, so Xiang Piaopiao is not starting a business from scratch. In the year when the company was founded, Xiang Piaopiao placed an advertisement of 30 million yuan on China's Hunan Satellite TV.
As mentioned earlier, it was an era when China's consumption power was booming, and Hunan Satellite TV was the winner in the entertainment field in this era. It changed the serious tone of Chinese TV station, imitated and introduced a large number of variety entertainment programs from Japan, South Korea and the United States, and attracted a large number of young viewers.
Therefore, Xiang Piaopiao's advertisement on Hunan Satellite TV is unprecedentedly successful, and it makes almost all Chinese young people know about the brand.
Li Ying Yan, a former loyal consumer of Xiang Piao Piao, said in an interview that she bought a cup of XPP milk tea almost every day in 2009. The reason is that the XPP's taste is very good, which is similar to the freshly made milk tea sold by the milk tea shop. On the other hand, instant milk tea is convenient for her to drink at any time without having to go out to buy it.
By 2017, before incense floated on the A-share market, the company's annual sales had exceeded 2.5 billion yuan(about $360 million).
Xiang Piaopiao also became the first listed company in China to make milk tea. However, the good times did not last long, and it soon ushered in a shrinking market.
The decline of classic milk tea and the transformation of XPP
First of all, it needs to be emphasized that, Xiang Piao Piao has not completely disappeared in China. In fact, it is still the largest player in China's instant milk tea market. According to its financial report, it still has an income of 3.97 billion yuan in 2019 and has a market share of more than 63.1% of China's instant milk tea market.
However, China's instant milk tea market has shrunk rapidly in the past few years, and even if the company's sales in China have not declined, there is no room for growth.
According to media reports, the company even reported a brief net loss in 2018. Although the company's revenue has been rising, it has lost money because of the high cost of advertising. In the first half of 2019, the company's revenue was as high as 1.377 billion yuan, but its profit was only 22800 yuan, which is a shocking profit ratio.[3]
On the face of it, though, it seems that this is due to the fact that XPP has paid too much for advertising. But from a deep point of view, this is because Chinese consumers' preferences have changed, and Xiangpiao has to put in a large number of advertisements to maintain sales.
As we mentioned in our previous article, the new type of milk tea is rapidly becoming popular among young people in China. The ingredients of the new milk tea are fresh milk, freshly brewed tea, fresh fruit and all kinds of strange ingredients such as Oreo biscuits or rice cakes.
The flavor and taste provided by these ingredients are incomparable to instant milk tea. Due to the strong occupation of the new-style milk tea market, the old-fashioned milk tea shop also began to reduce the price of milk tea.
In the summer of 2020, Honey Snow City, a classic Chinese milk tea store founded in 2000, opened its 10,000 stores despite the impact of the epidemic.
[sociallocker id="5614″]
In this milk tea shop, you can buy a cup of classic Iced Milk Tea with quite good taste for only 7 yuan. The Sanpure's same milk tea costs 6.5 yuan per cup, and because you need to brew it with hot water, it is a hot drink that few people drink in summer.
Li Ying Yan, the former loyal customer mentioned above, has also stopped buying Sanpure milk tea in recent years. She told reporters that due to the rise of food delivery Apps, she was able to buy better milk tea at home without having to drink instant milk tea.
The situation of XiangPiaoPiao floating in the Chinese market is almost the same as Cha Cha sunflower seeds. They didn't do anything wrong, but briefly failed to keep up with the times.
But now, just like Cha Cha Food, XiangPiaoPiao is looking for a transformation. In 2018, XiangPiaoPiao launched a number of sub-brands, including Meco, which specializes in fruit tea.
To some extent, Meco imitates the taste of the new style milk tea, blending tea with fruit juice to create a new flavor and reducing the content of milk (which contains almost no dairy ingredients). But in order to ensure the refreshing feeling of the fruit, it is no longer an instant drink, but an ordinary bottled drink.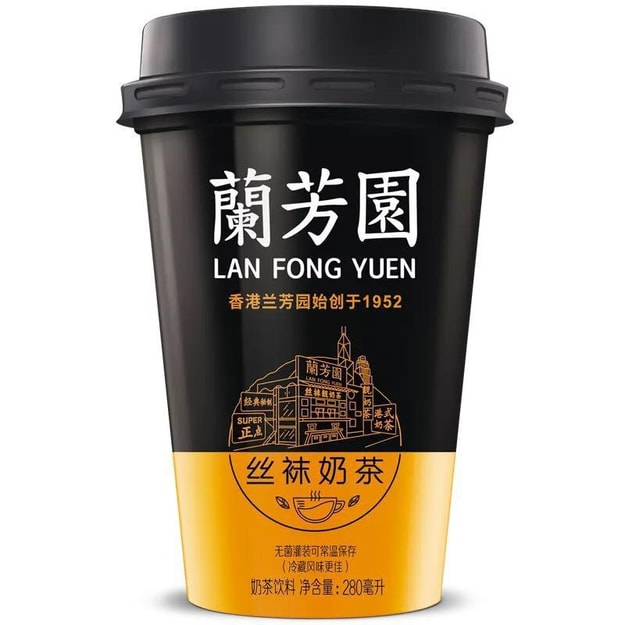 It launched another sub-brand,Lan Fong Yuen, which mainly sells bottled liquid milk tea, eliminating the brewing process of instant milk tea and allowing consumers to drink it directly. The brand is licensed from Lan Fong Yuen Hong Kong, a veteran milk tea brand, and was founded in 1952. Compared with the XPP instant milk tea, the taste of Lan Fong Yuen is more mellow, with more tea and milk flavor.
Luo Jun, an analyst of China's tea industry, said in an interview that milk tea shops are mainly suitable for first-and second-tier cities. However, for China's vast third-tier cities and rural markets, XPP can not be ignored. Xiang Piaopiao once had a good brand reputation in these areas, now it is easy to succeed as long as the company keep trying to launch products that young people like in these areas.
In addition, overseas sales is also a strategy of the company. As different from the Asian regions, the urban commercial layout of Europe and the United States is not suitable for the opening of offline milk tea shops, so Xiang Piaopiao has good sales in these areas.
According to the financial report, it has achieved more than 17 million yuan in revenue outside China in 2019.
If you haven't had a fragrant drink yet, be sure to try this traditional instant drink from the east next time you go to the supermarket.
[/sociallocker]
[1] https://www.iyiou.com/p/44238.html
[2] https://www.sohu.com/a/66067224_120898
[3] https://mp.weixin.qq.com/s/rUwN3O2akGEInoCYNqKbww